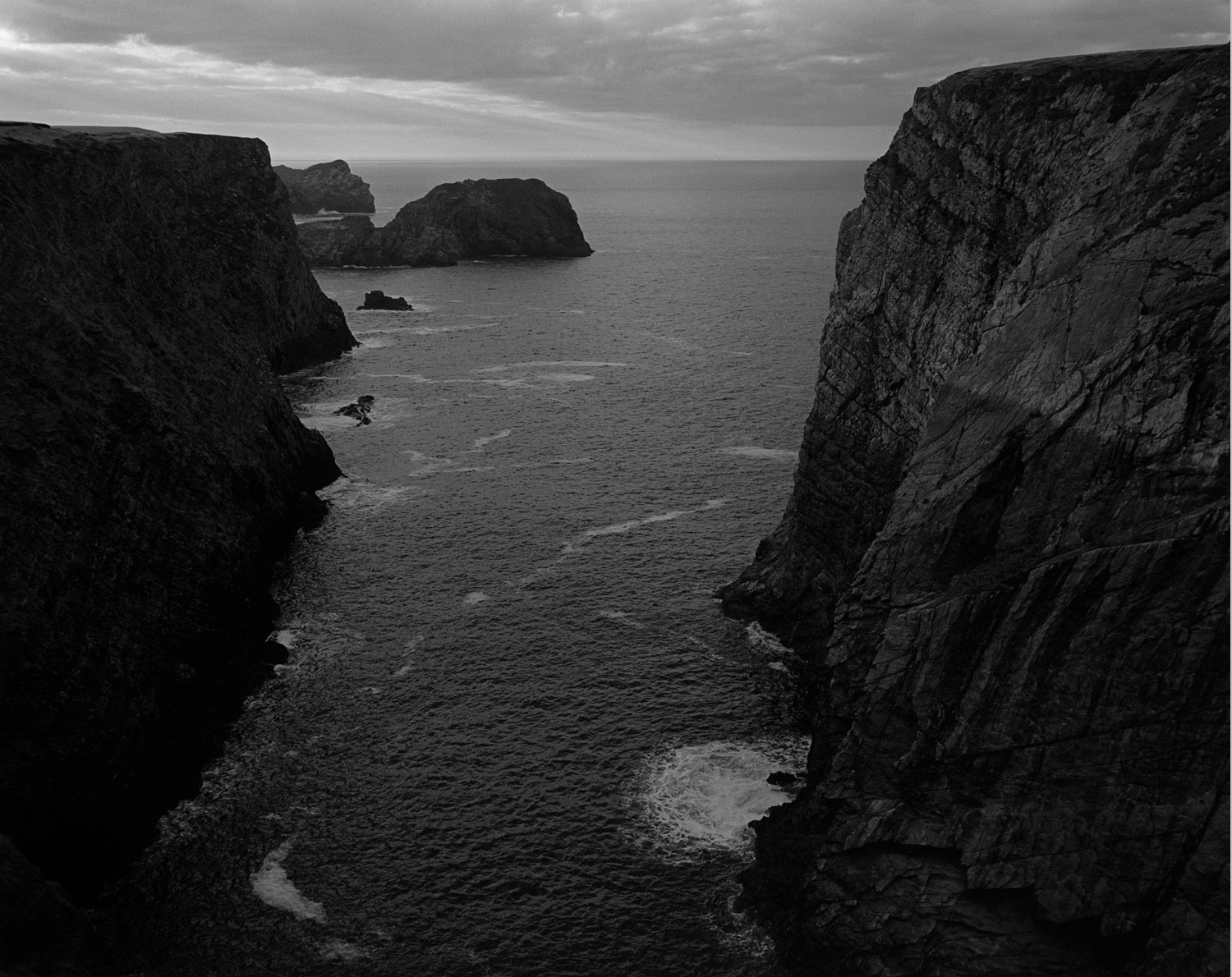 About
Oliver Sears Gallery is pleased to announce its second solo exhibition by Dublin born photographer, Amelia Stein.
Precipice follows on from her previous exhibition The Big Sky and recent exhibition Erris at the Royal Hibernian Academy. The work was made over recent months in Mayo focusing on a stretch of headland from Port a'Clóidh to An Rinn Rua, Erris Peninsula, North Mayo which comprises of a complex diversity of rock formations and geology.

Amelia comments "in the making of these photographs, personal challenges have been confronted, examined and questioned. Is there an emotion between the mesmeric and pure fear? Does the scale of the drop from the cliff edge to the dark water below become subsumed in the tantalizing detail which demands your attention? Just a breath of a footstep too near to the edge. Is the wind a little high? Is that gust you feel at your back too strong? Is there the emotion which is a cross between exhilaration and tiredness? Have you just been out there too long in the wild open space, no boundaries, time only marked by the passage of the sun to its setting place, observing shadows and highlights across the headlands. Alone you must make the decision and chose the correct time to walk back from the edge, to the calm embrace of flat bogland and a less harsh wind".

A visual interpretation of the work of local historians, Treasa Ní Ghearraigh and Uinsíonn Mac Graith who have researched and published 'The Placenames and Heritage of Dún Chaocháin'. Drawing on living memory and local oral history, they have recorded the given Irish Language names assigned to rock formations, cliffs and areas of land before they pass out of the vocabulary of everyday life. The Point of Deliverance, The Thieving Ledge, The Three Hags of the Promontory, The Ledge of the Eagles, The Fool's Hollow to name few.

About Amelia Stein
Amelia Stein, lives and works in Dublin, Ireland, where she was born in 1958, establishing herself over 30 years as a singularly exacting photographer whose work is characterized by meticulous attention to detail in tandem with the attributes of fine black and white photographic printing. As a performing arts photographer, Stein has worked in Theatre and Opera in Ireland 1979-2000. Her signature black and white photography featured widely in the Music Industry. Amelia was elected a member of the RHA in 2004 and to Aosdána in 2006.